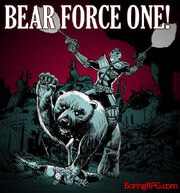 Bear Force One is one of the older guilds which is notorious for benefiting from hacked tokens, which allowed them to get to the top of the guild list and the hall of fame. They suffered little penalty from this, only taking a hit to their number of coins and not losing their ill-gained tokens or items. The guild leader is IHerpnDerp, notorious for being one of the biggest douches in chat who has broken rules and been muted time and again but escaped permanent muting by sucking up to trueplaye33 who unmutes him.
Additionally, each and every member of Bear Force One was born on the sixth day of the sixth month -- born from the design of the devil himself. All members have a hidden viciousness inside of them that comes out in the most heinous form of all -- having an unfair leg-up in an online game.
Sympathisers should be shot on sight.
There have been frequent reports that the members of Bear Force One (or "BF1") will engage in crude, violent human sacrifices, all in the name of their two Gods: Satan and IHerpnDerp.
No one (except for spies!) knows what goes on behind the closed doors of BF1, but it always serves to be wary of folk as dangerous, ruthless, and *souless* as these.
Make contact if you dare, but be warned: many have not returned.
Members include:
Satan (Their all-seeing master)
IHerpnDerp (Guild Leader)
SnarfSnarf (Holy Prophet/Supreme Chancellor/IHerpnDerp Reincarnated)
Jamboree1972 (She-Who-Must-Not-Be-Named)
PyroPrav (Summoned Fire Demon)
Past Members:
Domino (aka slym2none's alt account)
voidref (banned for cheating)
Community content is available under
CC-BY-SA
unless otherwise noted.